Tuesday Oct. 24, 2017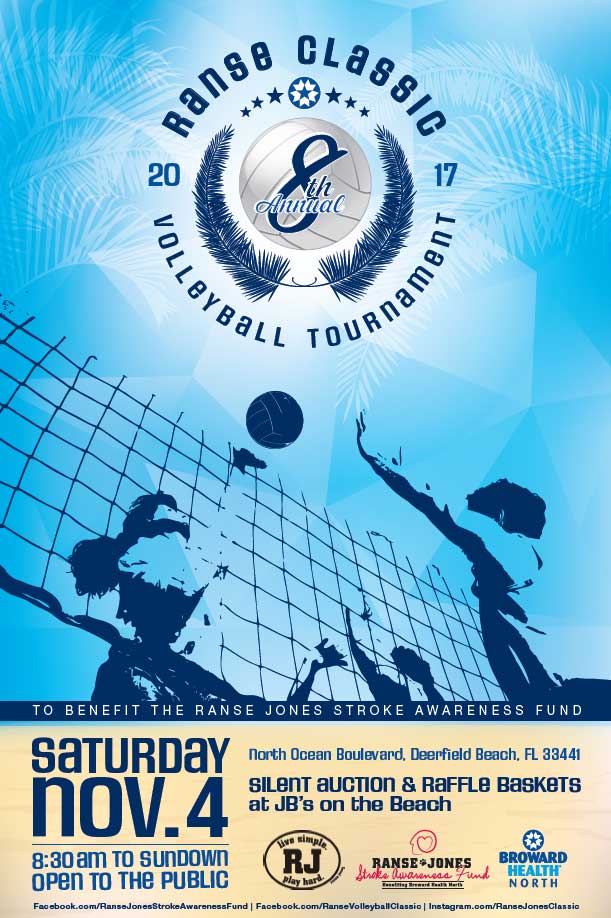 8th Annual Ranse Volleyball Classic
On Saturday, November 4, volleyball players will converge on Deerfield Beach for the 8th annual Ranse Volleyball Classic. Proceeds from the tournament will support the Ranse Jones Stroke Awareness Fund at Broward Health North.
The event is held in memory of Ranse Jones, a beach volleyball player who was only 34 years old when he passed away from a ruptured brain aneurysm. His legacy lives on through the Ranse Jones Stroke Awareness Fund and Ranse Volleyball Classic. The Fund's mission is to provide funding for stroke education, awareness, treatment, care and support for the community.
The event is open to the public from 8:30am to sundown at North Ocean Boulevard, Deerfield Beach, and will include a silent auction and raffle baskets at JB's on the Beach.
Come out and support this great cause!
Broward Health, providing service for more than 75 years, is a nationally recognized system in South Florida that offers world-class healthcare to all. The Broward Health system includes the statutory teaching hospital Broward Health Medical Center, Broward Health North, Broward Health Imperial Point, Broward Health Coral Springs, Salah Foundation Children's Hospital at Broward Health, Broward Health Weston, Broward Health Community Health Services, Broward Health Physician Group, Broward Health Urgent Care, Broward Health International, and Broward Health Foundation. For more information, visit BrowardHealth.org.